How to play DVDs in Windows 10 for free
You can play a DVD in Windows 10 for free, with a little help that's probably not from Microsoft. I'll tell you how Microsoft's solution sort-of works for some people. Then I'll tell you about the much better alternative called VLC that anyone can use, and is still being updated regularly. Best of all, it's free!
Updated February 9, 2018, to mention improvements included in VLC 3.0.
RIP Windows Media Center
When Windows 10 came along, it left behind Windows Media Center, a utility for home theater PCs that let you play DVDs on your computer. Windows 8 didn't come with it either, but users running Windows 8 Pro could still install Windows Media Center.
That workaround is gone with Windows 10. Windows Media Center simply doesn't work. Microsoft offers an official solution for DVD playback, but well, it's bad. 
That bad solution is a $15 Windows Store app called Windows DVD Player, which you might find for free on your PC if you upgraded from Windows 7 or 8. It's no-frills and should just work, but when I tested the app two years ago it did anything but. Checking out the latest reviews it appears the problems with Windows DVD Player persist. 
Windows DVD Player: Hit or miss
Users upgrading to Windows 10 from any Windows 7 or Windows 8 machine with Windows Media Center should see a new app called Windows DVD Player. If not, you should be able to download it for free from the Windows Store.
A word of warning: I got Windows DVD Player for free after upgrading from Windows 8.1 with Windows Media Center. Once I did a clean install of Windows 10 after upgrading, however, I lost the right to download Windows DVD Player for free. 
In 2015, I tested Windows DVD Player with a Lenovo X220 laptop running Windows 10 Pro, an external Transcend standard DVD player/burner, and five commercial DVDs. Windows DVD Player automatically detected my inserted DVD and started playing it back. The app had no problem getting through the FBI warnings, previews, and menus of my DVDs.
However, it did fail to play a few of my movies. It also wasn't very good at switching between discs. If I removed one DVD and put in another, I had to restart the app before it recognized the new disc. Taking a look at the current reviews in the Windows Store, some users are still experiencing similar playback problems to mine.
One thing everyone agrees on is that this app is very bare-bones. In fact, it doesn't look like Microsoft has done much to update the interface since it first rolled out the app in 2015.
VideoLAN VLC for the win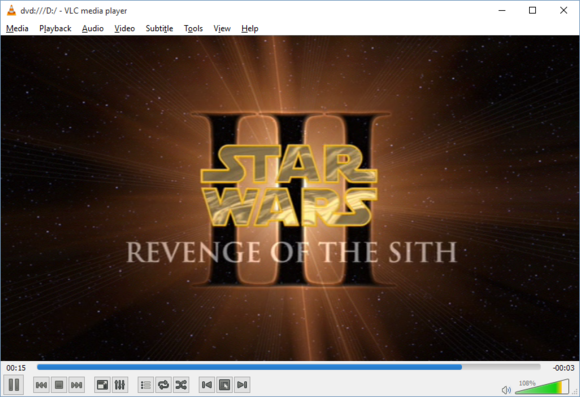 If you're using a pre-built, boxed PC from a vendor like Dell or HP, your PC may already have a free commercial DVD playback solution installed.
If not, a better alternative to Microsoft's Windows 10 DVD Player is to turn to the free and always reliable VLC video player. Make sure you download the desktop app and not the Windows Store version, which doesn't support DVDs or Blu-ray.
Once it's installed, open the program, insert a DVD, and click on Media > Open Disc to watch your DVDs.
It's really that simple, though VLC packs surprising hidden powers for anyone who wants to dive a little deeper. VLC 3.0, for example, added the ability to cast videos and music to Chromecast devices, 360-degree and HDR video support, high-definition audio codec passthrough, and more.
Additional reporting by Brad Chacos